Click here for Graduate Student Life Movie
At the Department of Cell Biology, we investigate under these two themes to gain insights into the mechanism of the vectorial transport and the mechanism of the pathogenesis of human dementia.
1) Mechanism of cell polarization:
Polarization of the cell is crucial to the proper function of various kinds of cells. Epithelial cells become polarized to have apical and basolateral sides to secrete enzymes or hormones efficiently (Figure 1). Neurons are also polarized to have dendrites and axons which are essential for neurotransmission. To investigate the mechanism of cell polarization, we are making knockout mice of proteins crucial for this process. We are going to investigate the mutant mice by various cell biological and neurobiological methods (Figure 2). We are also planning to identify novel proteins crucial for cell polarization.
The small GTP-binding protein Rab8 was thought to regulate basolateral transport in polarized kidney epithelial cells through the AP1B-complex-mediated pathway. However, the role of Rab8 in cell polarity in vivo remained unknown. In our recent work, we showed that Rab8 is responsible for the localization of apical proteins in intestinal epithelial cells (Figure 3). We found that apical peptidases and transporters localized to lysosomes in the small intestine of Rab8-deficient mice. Their mislocalization and degradation in lysosomes led to a marked reduction in the absorption rate of nutrients in the small intestine, and ultimately to death. Ultrastructurally, a shortening of apical microvilli, an increased number of enlarged lysosomes, and microvillus inclusions in the enterocytes were also observed. One microvillus inclusion disease patient who shows an identical phenotype to Rab8-deficient mice expresses a reduced amount of RAB8. Our results demonstrated that Rab8 is necessary for the proper localization of apical proteins and the absorption and digestion of various nutrients in the small intestine. This work was published in Nature 448, 366-369 (19 July 2007).
3) Generation and analyses of the model mice for human dementia: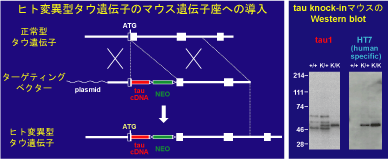 Doctoral Course(Graduate School)
We accept graduate students for PhD program who are interested in the fields of Cell Biology and Neuroscience.
For details, please contact
Prof. Akihiro Harada MD, PhD
Department of Cell Biology, Graduate School of Medicine, Osaka University
2-2, Yamadaoka, Suita, Osaka 565-0871, Japan
The activity of Sac1 across ER-TGN contact sites requires the four-phosphate-adaptor-protein-1.
Venditti R, Masone MC, Rega LR, Di Tullio G, Santoro M, Polishchuk E, Serrano IC, Olkkonen VM, Harada A, Medina DL, La Montagna R, De Matteis MA.
J Cell Biol.218(3):783-797. doi: 10.1083/jcb.201812021. (2019)
Neuronal SIRT1 regulates macronutrient-based diet selection through FGF21 and oxytocin signalling in mice.
Matsui S, Sasaki T, Kohno D, Yaku K, Inutsuka A, Yokota-Hashimoto H, Kikuchi O, Suga T, Kobayashi M, Yamanaka A, Harada A, Nakagawa T, Onaka T, Kitamura T.
Nat Commun. 9:4604. doi: 10.1038/s41467-018-07033-z.(2018)
LRRK2 and its substrate Rab GTPases are sequentially targeted onto stressed lysosomes and maintain their homeostasis.
Eguchi T, Kuwahara T, Sakurai M, Komori T, Fujimoto T, Ito G, Yoshimura SI, Harada A, Fukuda M, Koike M, Iwatsubo T.
Proc Natl Acad Sci U S A. 115:E9115-E9124. doi: 10.1073/pnas.1812196115.(2018)
VAMP7 Regulates Autophagosome Formation by Supporting Atg9a Functions in Pancreatic β-Cells From Male Mice.
Aoyagi K, Itakura M, Fukutomi T, Nishiwaki C, Nakamichi Y, Torii S, Makiyama T,Harada A, Ohara-Imaizumi M.
Endocrinology 159:3674-3688. doi: 10.1210/en.2018-00447.(2018)
A Novel Contact by a Novel Protein Complex Supports Cholesterol Transport to the Endoplasmic Reticulum
Harada A
Contact 1, 2515256418779685, doi.org/10.1177/2515256418779685 (2018)
The Rab11-binding protein RELCH/KIAA1468 controls intracellular cholesterol distribution.
Sobajima T, Yoshimura SI, Maeda T, Miyata H, Miyoshi E,Harada A.
J Cell Biol 217:1777-1796. doi: 10.1083/jcb.201709123.(2018)
UPR transducer BBF2H7 allows export of type II collagen in a cargo- and developmental stage-specific manner.
Ishikawa T, Toyama T, Nakamura Y, Tamada K, Shimizu H, Ninagawa S, Okada T, Kamei Y, Ishikawa-Fujiwara T, Todo T, Aoyama E, Takigawa M,Harada A, Mori K.
J Cell Biol216:1761-1774. doi: 10.1083/jcb.201609100. (2017)
BIG1 is required for the survival of deep layer neurons, neuronal polarity, and the formation of axonal tracts between the thalamus and neocortex in developing brain.
Teoh JJ, Iwano T, Kunii M, Atik N, Avriyanti E, Yoshimura SI, Moriwaki K, Harada A.
PLoS One. 12:e0175888. doi: 10.1371/journal.pone.0175888. (2017)
Chloroquine-Inducible Par-4 Secretion Is Essential for Tumor Cell Apoptosis and Inhibition of Metastasis.
Burikhanov R, Hebbar N, Noothi SK, Shukla N, Sledziona J, Araujo N, Kudrimoti M, Wang QJ, Watt DS, Welch DR, Maranchie J, Harada A, Rangnekar VM.
Cell Rep 18(2): 508-519. doi: 10.1016/j.celrep.2016.12.051. (2017)
Mutations in the pH-Sensing G-protein-Coupled Receptor GPR68 Cause Amelogenesis Imperfecta.
Parry DA, Smith CE, El-Sayed W, Poulter JA, Shore RC, Logan CV, Mogi C, Sato K, Okajima F, Harada A, Zhang H, Koruyucu M, Seymen F, Hu JC, Simmer JP, Ahmed M, Jafri H, Johnson CA, Inglehearn CF, Mighell AJ.
Am J Hum Genet 99(4): 984-990. doi: 10.1016/j.ajhg.2016.08.020. (2016)
Opposing roles for SNAP23 in secretion in exocrine and endocrine pancreatic cells.
Kunii M, Ohara-Imaizumi M, Takahashi N, Kobayashi M, Kawakami R, Kondoh Y, Shimizu T, Simizu S, Lin B, Nunomura K, Aoyagi K, Ohno M, Ohmuraya M, Sato T, Yoshimura SI, Sato K, Harada R, Kim YJ,
Osada H, Nemoto T, Kasai H, Kitamura T, Nagamatsu S, Harada A.
J Cell Biol 215: 121-138. doi: 10.1083/jcb.201604030 (2016)
VAMP7 Regulates Autophagy to Maintain Mitochondrial Homeostasis and to Control Insulin Secretion in Pancreatic β-Cells.
Aoyagi K, Ohara-Imaizumi M, Itakura M, Torii S, Akimoto Y, Nishiwaki C, Nakamichi Y, Kishimoto T, Kawakami H, Harada A, Takahashi M, Nagamatsu S.
Diabetes 65: 1648-59. doi: 10.2337/db15-1207 (2016)
A novel non-canonical Notch signaling regulates expression of synaptic vesicle proteins in excitatory neurons.
Hayashi Y, Nishimune H, Hozumi K, Saga Y, Harada A, Yuzaki M, Iwatsubo T, Kopan R, Tomita T.
Sci Rep 6: 23969. doi: 10.1038/srep23969 (2016)
Rab8b Regulates Transport of West Nile Virus Particles from Recycling Endosomes.
Kobayashi S, Suzuki T, Kawaguchi A, Phongphaew W, Yoshii K, Iwano T, Harada A, Kariwa H, Orba Y, Sawa H.
J Biol Chem 291: 6559-68. doi: 10.1074/jbc.M115.712760.(2016)
EHBP1L1 coordinates Rab8 and Bin1 to regulate apical-directed transport in polarized epithelial cells.
Nakajo A, Yoshimura SI (co-first and co-corresponding author), Togawa H, Kunii M, Iwano T, Izumi A, Noguchi Y, Watanabe A, Goto A, Sato T, Harada A
J Cell Biol 212: 297-306. doi: 10.1083/jcb.201508086 (2016)
Rab8a vesicles regulate Wnt ligand delivery and Paneth cell maturation at the intestinal stem cell niche.
Das S, Yu S, Sakamori R, Vedula P, Feng Q, Flores J, Hoffman A, Fu J, Stypulkowski E, Rodriguez A, Dobrowolski R, Harada A, Hsu W, Bonder EM, Verzi MP, Gao N.
Development 142: 2147-62. doi: 10.1242/dev.121046. (2015)
Functional redundancy of protein kinase D1 and protein kinase D2 in neuronal polarity. Avriyanti E, Atik N, Kunii M, Furumoto N, Iwano T, Yoshimura S, Harada R, Harada A.
Neurosci Res 95: 12-20. doi: 10.1016/j.neures.2015.01.007.(2015)
Rab11a is required for apical protein localisation in the intestine.
Sobajima T, Yoshimura S, Iwano T, Kunii M, Watanabe M, Atik N, Mushiake S, Morii E, Koyama Y, Miyoshi E, Harada A.
Biol Open 4(1): 86-94. doi: 10.1242/bio.20148532. (2014)
Trans-regulation of oligodendrocyte myelination by neurons through small GTPase Arf6-regulated secretion of fibroblast growth factor-2.
Akiyama M, Hasegawa H, Hongu T, Frohman MA, Harada A, Sakagami H, Kanaho Y.
Nat Commun 5: 4744. doi:10.1038/ncomms5744. (2014)
Drebrin E depletion in human intestinal epithelial cells mimics Rab8a loss of function.
Vacca B, Bazellieres E, Nouar R, Harada A, Massey-Harroche D, Le Bivic A.
Hum Mol Genet 23(11): 2834-46. doi: 10.1093/hmg/ddt670. (2014)
CLAC-P/collagen type XXV is required for the intramuscular innervation of motoneurons during neuromuscular development.
Tanaka T, Wakabayashi T, Oizumi H, Nishio S, Sato T, Harada A., Fujii D, Matsuo Y, Hashimoto T, Iwatsubo T.
J Neurosci. 34(4): 1370-9. doi: 10.1523/JNEUROSCI.2440-13.2014. (2014)
The Role of PKD in Cell Polarity, Biosynthetic Pathways, and Organelle/F-actin Distribution
Nur Atik, Kunii M, Erda Avriyanti, Furumoto N, Inami K, Yoshimura S, Harada R,Harada A.
Cell Struct Funct. 39: 61-77. doi.org/10.1247/csf.13020 (2014)
Rab8a and Rab8b are essential for several apical transport pathways but insufficient for ciliogenesis.
Sato T, Iwano T, Kunii M, Matsuda S, Mizuguchi R, Jung Y, Hagiwara H, Yoshihara Y, Yuzaki M, Harada R, Harada A.
J Cell Sci 127(2): 422-31. doi: 10.1242/jcs.136903. (2014)
Vesicular and non-vesicular transport feed distinct glycosylation pathways in the Golgi.
D'Angelo G, Uemura T, Chuang C-C, Polishchuk E, Santoro M, Ohvo-Rekila H, Sato T, Di Tullio G, Varriale A, D'Auria S, Daniele T, Capuani F, Johannes L, Mattjus P, Monti M, Pucci P, Williams RL, Burke JE, Platt FM, Harada A, De Matteis MA
Nature 501: 116-120. doi:10.1038/nature12423 (2013)
Critical roles of type III phosphatidylinositol phosphate kinase in murine embryonic visceral endoderm and adult intestine.
Takasuga S, Horie Y, Sasaki J, Sun-Wada GH, Kawamura N, Iizuka R, Mizuno K, Eguchi S, Kofuji S, Kimura H, Yamazaki M, Horie C, Odanaga E, Sato Y, Chida S, Kontani K, Harada A, Katada T, Suzuki A, Wada Y, Ohnishi H, Sasaki T.
Proc Natl Acad Sci U S A 110(5): 1726-31. doi: 10.1073/pnas.1213212110. (2013)
Delivery of Endosomes to Lysosomes via Microautophagy in the Visceral Endoderm of Mouse Embryos
Kawamura N, Wada S, Aoyama M, Harada A, Takasuga S, Sasaki T, Wada Y.
Nat Comm 3: 1071. doi: 10.1038/ncomms2069.(2012)
Uncovering genes required for neuronal morphology by morphology-based gene trap screening with a revertible retrovirus vector.
Hashimoto Y, Muramatsu K, Kunii M, Yoshimura S, Yamada M, Sato T, Ishida Y, Harada R, Harada A.
FASEB J 26: 4662-4674 doi: 10.1096/fj.12-207530. (2012)
Cdc42 and Rab8a are critical for intestinal stem cell division, survival, and differentiation in mice.
Sakamori R, Das S, Yu S, Feng S, Stypulkowski E, Guan Y, Douard V, Tang W, Ferraris RP, Harada A, Brakebusch C, Guo W, Gao N.
J Clin Invest 122: 1052-1065; doi: 10.1172/JCI60282, (2012)
The role of VAMP7/TI-VAMP in cell polarity and lysosomal exocytosis in vivo.
Sato M, Yoshimura S, Hirai R, Goto A, Kunii M, Atik N, Sato T, Sato K, Harada R, Shimada J, Hatabu T, Yorifuji H, Harada A.
Traffic 12: 1383-1393; doi: 10.1111/j.1600-0854.2011.01247.x, (2011)
Caenorhabditis elegans SNAP-29 is required for organellar integrity of the endomembrane system and general exocytosis in intestinal epithelial cells.
Sato M, Saegusa K, Sato K, Hara T, Harada A, Sato K.
Mol Biol Cell 22: 2579-2587; doi: 10.1091/mbc.E11-04-0279, (2011)
Induction of liver steatosis and lipid droplet formation in ATF6alpha-knockout mice burdened with pharmacological endoplasmic reticulum stress.
Yamamoto K, Takahara K, Oyadomari S, Okada T, Sato T, Harada A, Mori K.
Mol Biol Cell 21: 2975-2986; doi: 10.1091/mbc.E09-02-0133, (2010)
Molecular mechanism of polarized transport.
Harada A.
J Biochem 147: 619-624; doi: 10.1093/jb/mvq027, (2010)
A novel role for hGas7b in microtubular maintenance: possible implication in tau-associated pathology in Alzheimer disease.
Akiyama H, Gotoh A, Shin RW, Koga T, Ohashi T, Sakamoto W, Harada A, Arai H, Sawa A, Uchida C, Uchida T.
J Biol Chem 284: 32695-32699; doi: 10.1074/jbc.M109.035998, (2009)
p31 deficiency influences endoplasmic reticulum tubular morphology and cell survival.
Uemura T, Sato T, Aoki T, Yamamoto A, Okada T, Hirai R, Harada R, Mori K, Tagaya M, Harada A.
Mol Cell Biol 29: 1869-1881; doi: 10.1128/MCB.01089-08, (2009)
Involvement of proton-sensing TDAG8 in extracellular acidification-induced inhibition of proinflammatory cytokine production in peritoneal macrophages.
Mogi C, Tobo M, Tomura H, Murata N, He XD, Sato K, Kimura T, Ishizuka T, Sasaki T, Sato T, Kihara Y, Ishii S, Harada A, Okajima F.
J Immunol 182: 3243-3251; doi: 10.4049/jimmunol.0803466, (2009)
Rab11 is required for synchronous secretion of chondroitin proteoglycans after fertilization in Caenorhabditis elegans.
Sato M, Grant BD, Harada A, Sato K.
J Cell Sci 121: 3177-3186; doi: 10.1242/jcs.034678, (2008)
Neuron-specific recombination by Cre recombinase inserted into the murine tau locus.
Muramatsu K, Hashimoto Y, Uemura T, Kunii M, Harada R, Sato T, Morikawa A, Harada A.
BBRC 370: 419-423; doi: 10.1016/j.bbrc.2008.03.103, (2008)
Regulation of endocytic recycling by C. elegans Rab35 and its regulator RME-4, a coated-pit protein.
Sato M, Sato K, Liou W, Pant S, Harada A, Grant BD.
EMBO J 27: 1183-1196; doi: 10.1038/emboj.2008.54, (2008)
Neuron-specific and inducible recombination by Cre recombinase in the mouse.
Hashimoto Y, Muramatsu K, Uemura T, Harada R, Sato T, Okamoto K, Harada A.
Neuroreport 19: 621-624, (2008)
Transcriptional induction of mammalian ER quality control proteins is mediated by single or combined action of ATF6alpha and XBP1.
Yamamoto K, Sato T, Matsui T, Sato M, Okada T, Yoshida H,Harada A, Mori K.
Dev Cell 13:365-76 (2007)
The Rab8 GTPase regulates apical protein localization in intestinal cells.
Sato T, Mushiake S, Kato Y, Sato K, Sato M, Takeda N, Ozono K, Miki K, Kubo Y, Tsuji A, Harada R, Harada A.
Nature 448: 366-369; doi: 10.1038/nature05929,(2007)